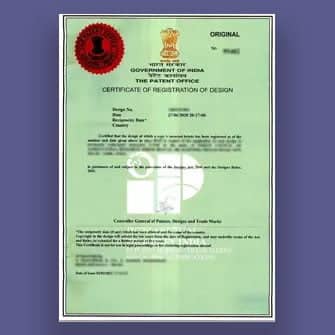 Design Registration
Design registration for one article, wherein the applicant is a proprietor or individual.
Design registration is a type of intellectual property protection under which a newly created design applied to an article created under an industrial process can be protected from counterfeiting. This registration provides authority to the owner to use the Design for ten years, and the time can be further extended for the next five years. The present article briefs the Design Registration procedure in India.
A design is defined under Section 2(d) of the Designs Act 2001, as only the features of a shape, pattern, configuration, composition, or ornament of lines or colors that are applied to any article that is two dimensional, three dimensional, or both by an industrial process or any means whether mechanical, manual or chemical, separated or combined, which in the finished article are judged solely by the eye; but is not taken into account upon the principle of construction or anything which is in substance a merely mechanical device.
Advantages of Design Registration in India
Following are some advantages that an owner can avail after getting registration of a design in India:
Exclusive rights over the new and original design
An asset of the proprietor/owner
Can initiate a legal proceeding in case of infringement by a third-party
Serve as a prima facie evidence in an infringement suit
Right to sell, transfer and license the design with ease