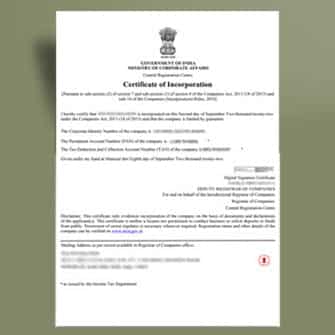 Section 8 Company
Incorporation of Section 8 Company including GST and Current account opening.
Recent Utility Bill
Aadhaar Card
Section 8 Company Registration
A Section 8 Company is a non-profit organization that aims to promote charitable activities, art, science, education, and sports. The profits of such companies are utilized for promoting these objectives and are not distributed among the Company's members.
At IndiaFilings, we provide end-to-end services for registering Section 8 companies in India. Our team of experts offers hassle-free and professional services to help you establish a Section 8 company quickly and efficiently. Contact us today to avail of our professional services for registering your Section 8 Company in India.
Overview of Section 8 Company Registration
A Section 8 Company is a type of corporation established to promote non-profit activities, such as education, social welfare, environment preservation, arts, sports, charity, and more. This follows the provisions of the Companies Act 2013.
The essential purpose of registering a Section 8 Company is to encourage non-profitable goals, including but not limited to trade, arts, commerce, education, charity, environmental protection, sports research, and social welfare. To register a Section 8 Company, a minimum of two directors are required, and there is no requirement for a minimum paid-up capital to set up such a company.
Key Points about Section 8 Company
In India, Non-Governmental Organizations (NGOs) can be registered under the Registrar of Societies or as a non-profit entity under Section 8 Company of the Companies Act, 2013.
Profit generated by Section 8 Companies cannot be used for purposes other than charitable objectives and cannot be distributed among shareholders.
Section 8 Companies are similar to the erstwhile Section 25 Company under the Company Act 1956. As per the prevailing Company Act, these are now recognized as Section 8 Companies.
Section 8 Companies are required to comply with the provisions of the Companies Act 2013. They are mandated to maintain books of accounts, file returns with the Registrar of Companies (ROCs), and comply with GST and IT Act.
Any changes to the charter documents like the Articles of Association (AoA) and Memorandum of Association (MoA) require the government's consent.