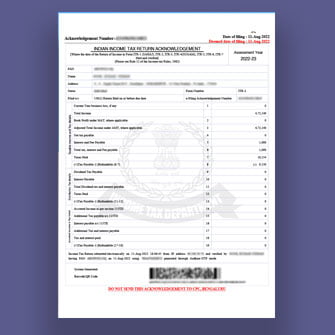 Monthly Purchase Bill
Monthly Sales Bill
Sales Return Details
ITR-5 Return Filing
Get a Dedicated Accountant and LEDGERS compliance platform for your business.
The taxpayers are supposed to file the Income Tax returns based on the income that is earned by them in the financial year and the kind of entity that it falls under. ITR 5 Form filing is to be done by the Association of Persons, Limited Liability Partnerships, Body of Individuals, Estates of the deceased, Artificial judicial person, business trust, estates of the insolvent, business trust, and investment fund.
Who is eligible to file ITR 5 Form?
ITR 5 can be filed by the following people :
A firm
A Limited Liability Partnership
Association of Persons
Body of Individuals
Artificial Judicial Persons that are referred to in Section 2 (31) (vii)
The local authority that is referred to in Section 160(1) (ii) or 160 (1) (iv)
Cooperative Society
Societies that are registered under Societies Registration Act, 1860 or under any state law trust ( except the trusts that are eligible for ITR 7 Form Filing)
Estate of the deceased person
Business trust referred to in Section 139 (4E)
Investment fund referred to in Section 139 (4F)
Instructions to be followed while ITR 5 Form
If the schedule is not applicable, Not Applicable has to be mentioned.
If the item is inappropriate write "NA" against the item.
The "Nil" stands for nil figures which identify the figures of zero value.
For a negative figure denote it with "-" before the figure other than which is provided in the Form.
All the figures are denoted in the round-off manner to the nearest one rupee.
Similarly, the figures for the total income and the payable tax should be rounded off to the nearest multiple of ten rupees.