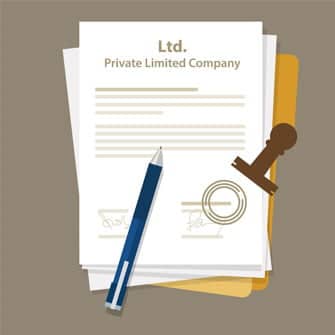 Pan Card
Passport (Foreign Nationals Only)
Aadhaar Card
Private Limited Company
Company registration including Government Fee & Stamp Duty*. Incorporation kit with share certificates.
Private Limited Company Registration
A Private Limited Company (PLC) is one of the most common types of legal entityin India. Private Limited Companies are governed by the Companies Act, 2013 and require a minimum of 2 Directors and 2 Shareholders with one of the Directors being an Indian Resident and Indian Citizen.
To register a company in India, the following are minimum requirements:
2 Directors – 1 Person should be an Indian National and Indian Resident
2 Shareholders – The Directors can be shareholders
Registered Office in India
100% Foreign Direct Ownership (FDI) is permitted in most sectors in India and there is no restriction on foreign shareholding of a private limited company. Hence, most foreign subsidiaries are established in India as private limited company.
Documents Required for Company Registration
The proposed directors of a private limited company must present the following documents as proof of identification in order to register a company:
Indian Nationals: PAN card mandatory
Foreign Nationals: Passport is mandatory
In addition to the above document, the Directors must submit one of the following documents that contain the address of the Director.
Indian Nationals: Passport / Driver's License / Election ID / Ration Card / Aadhar ID
Foreign Nationals: Drivers License / Bank Statement / Residence Card
Finally, as proof of residency, the prospective Directors must produce one of the following documents. This document must have been generated within the last two months:
Indian Nationals: Bank Statement / Electricity Bill / Phone Bill
Foreign Nationals: Bank Statement / Electricity Bill / Phone Bill
If one of the company's shareholders is a company based in India or abroad, the following documents must be submitted:
Board resolution authorizing investment in the company
Incorporation Certificate of the Company
Address proof of the company